Products
»
Grafted Specialties
Pinus mugo 'Sherwood Compact' – Sherwood Compact Mugo Pine
Height: 2-3'
Spread: 3-4' (rounded, very dense, slightly mounded or flat on top)
Hardiness: 2b-7
Foliage: Short stout dark green needles in uniform spirals around numerous short and upright branches. Has excellent winter persistence.
Growth Rate: Very slow.
Preferred Soil: ph 4.5 – 7.5 very soil tolerant to a wide variety of conditions.
Common Ailments: None, usually very healthy.
Attributes: A true dwarf mugo pine with good uniform density and shape. An excellent replacement for the very common and diverse dwarf mugo pumilo strain. This strain requires little pruning to produce and to maintain a compact habit.

1 gallon 6"
3 gallon 10"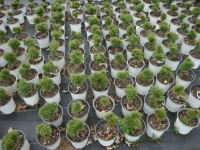 <&lt Back to Grafted Specialties